Αυτή η εκδήλωση έχει τελειώσει.
ESC_OPPORTUNITY IN POLAND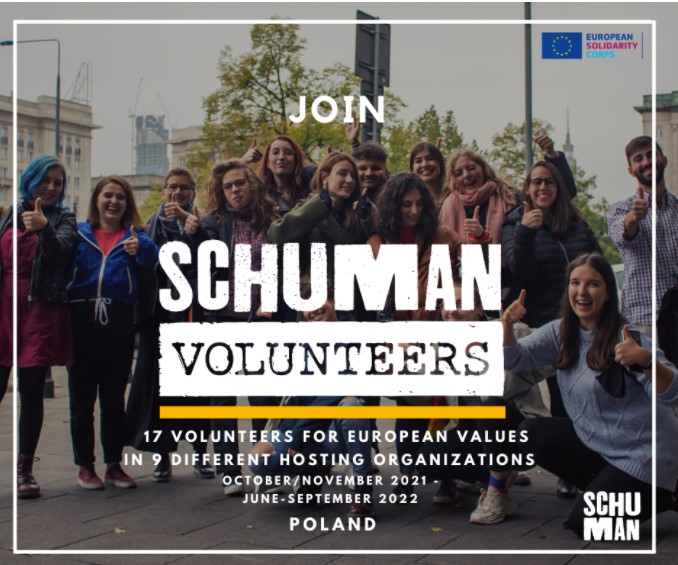 Become one of Schuman Volunteers 2021/2022!
Do you want to work with kids with disabilities, organise activities devoted to non-formal and intercultural education and develop new competences – join an  European Solidarity Corps and become one of the volunteers for Schuman Volunteers from October/November 2021 until June/September 2022!
The project involves 17 Schuman Volunteers who are hosted in 9 different hosting organisations:
The Polish Robert Schuman Foundation
European Integration Club at the Wojkowice School Complex in the Silesian agglomeration
Bilingual Primary School 1 in Warsaw
Primary School 318 in Warsaw with integrative classes
Kindergarten 146 for children with special dietary requirements
Special Kindergarten 393 in Warsaw for children with physical and intellectual disabilities
Special Kindergarten 245 in Warsaw for visually impaired children
Special Kindergarten 213 in Warsaw for children with physical and intellectual disabilities
Association of Developing Children's Activity "Chance" in Warsaw
On a daily basis, the volunteers work in their hosting organisation. As a group, they also participate in and organise common Schuman Volunteers activities. Below you will find a detailed description of the organisations along with the application form.
WHO ARE WE LOOKING FOR?
Volunteers aged between 18 and 30 years, legally residing in one of the participating and partner countries. We seek a balance of varied ages, genders and nationalities amongst our volunteers. All candidates must be registered in the European Solidarity Corps database. No specific knowledge, skills, or experience is required as the necessary ones can be acquired during the project. We are not looking for experienced volunteers but those who would learn a lot during the service in a particular hosting organization and are strongly motivated. Will to learn Polish is welcome as Polish will be useful during the project.
HOW TO APPLY?
Please fill in the application form and send it to: volunteering@schuman.pl. In the title please write APPLICATION 2021. We will contact selected candidates and arrange online interviews.
The deadline for applications is 14/07/2021, but please do not wait till the last moment – the applications will be analyzed as they arrive.
Click on the link to learn more: https://schumanvolunteers.pl/2021/05/18/become-one-of-schuman-volunteers-2021-2022/