Αυτή η εκδήλωση έχει τελειώσει.
ESC – OPPORTUNITY IN ITALY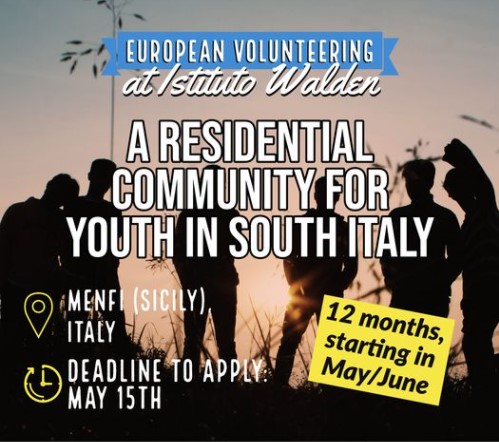 European volunteering in Italy in a residential community for youth
Location: Menfi (Sicily), Italy
Project dates:  from May/June 2021 to May/June 2022
Applicants: 3 volunteers, aged 18-30 from EU Countries only
Hosting institution: Istituto Walden
Application deadline: as soon as possible
Istituto Walden is a cooperative in the social sector that manages different houses and services for minors, abuse survivors, single mothers, disabled youth. The volunteers will be supporting the educators in a housing community for minors, that includes young offenders on a rehabilitation path.
The volunteers will be carrying out different activities, including: after-school activities, recreational and linguistic workshops, event management, together with youngsters 13-18 years old.
To apply or learn more, visit the website:  https://youthforeurope.eu/project/european-volunteering-in-italy-in-a-residential-community-for-youth/?fbclid=IwAR1szZq8TSv0NuSNvjbubFYLqV0018gFoaMrwxq1GgydxkjsE3t_RW6ogP0
Λεπτομέρειες
Ημερομηνία:

Μάιος 19

Κατηγορίες Εκδήλωση:

Ετικέτες Εκδήλωση